Guest Post by Amy Oestreicher
It's been quite a full year for me. I'm a year closer to being a "thirty-something", I've just married the love of my life this June, I'm half-way through my college career, and I've officially closed the door on a decade of medical hurdles. I've also taught school, performed my one-woman show all over the country for three years, sell my art and display it in galleries across the state, and have an insatiable yearning to make my mark on the world.
It's become more important to me as after "thriving" through a coma and 27 surgeries to not give up on my dreams and to really refine my passion into a living, a career, my own personal way to change the world.
Every day is an opportunity for growth, change and discovery, and with every year of my 29 years on this earth, I've learned lessons about what it really takes to make a difference in the world by doing what I love.
Here are five to get you started.
1. Everything is connected – people, places, events. Every encounter in life is a bridge to a new opportunity, even the opportunity is in disguise.
2.  Start with a single step. The tiniest micro-movement can cause ripples that extend for miles.
3.  Be fearless, shameless, but courteous and civil. Boldly reach out to people who inspire you, but know that there is appropriate time and place for everything.
4. The boat of opportunity will always come around. If you miss it this time, just keep your eyes pealed for the next time.
5. Do what you love, live it passionately and learn all that you can about it. Be an artist, a scholar and an entrepreneur at all times.
There's a famous saying that "man plans, god laughs." Well, I plan on laughing through my successes, laughing at my not-this-time successes, and keeping a smile in my heart knowing that not only am I living what I love, I'm turning my passion into a livelihood. If there's one giant takeaway from every year gone by, it's the lesson that fear has taught me. Why be afraid of turning your passion into a career?
And if there's one thing not to be afraid of, it's getting older – who knows what the next 29 years will bring?
ABOUT THIS GUEST:  Amy Oestreicher is a PTSD peer-peer specialist, artist, author, writer for Huffington Post, RAINN speaker, award-winning health advocate, actress and playwright, sharing the lessons learned from trauma through her writing, mixed media art, performance and inspirational speaking. She is the author and star of Gutless & Grateful, her one-woman musical autobiography, which has earned rave reviews and accolades since its NYC debut in 2012. Her writings have appeared in Washington Post and On Being, among others, and her story has appeared on TODAY, Cosmopolitan and CBS. She's currently touring a mental health advocacy/sexual assault awareness program to colleges nationwide. www.amyoes.com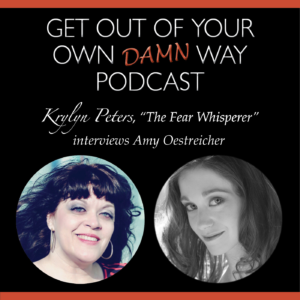 Listen to Amy's Get Out of Your Own Damn Way podcast interview HERE.
Comments
comments