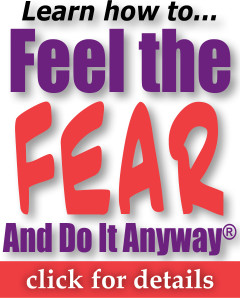 Let me ask you a question: What would your life be like if fear didn't get in the way? I know. It's hard to imagine. But take a moment to think about what it would be like if you could:
Overcome the fears and self doubt that hold you back in your everyday life
Increase your self-esteem and let go of negative programming and limiting beliefs
Create more love, trust and satisfaction in your life
Eliminate negativity and create positivity around you
I'm excited to share with you some tried and tested techniques for overcoming fear in my upcoming workshop "Feel the Fear And Do It Anyway"®. Come spend a day investing in YOU, your future, and your dreams. Learn and practice techniques that have helped more than 12 million people worldwide overcome their fear.
Watch and listen to what previous workshop attendees had to say about this workshop:
Spots are limited, so be sure to grab yours before it's too late.
http://www.krylyn.com/feelthefear
Isn't it time to face your fears and live the life of your dreams? You are so worth it!
Comments
comments