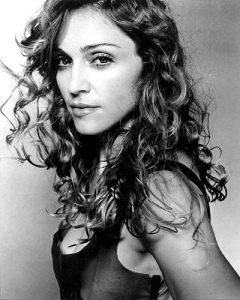 What did you dream of when you were a child? I dreamt of being an astronaut, a veterinarian, and a superstar. Then I got some life experience under my belt and realized floating in space might make me nauseous, I'm squeamish about the insides of all living creatures, and the lack of privacy involved with being the next Madonna was a bit much for this introvert to handle (although that dream still lingers a little).
As I got older, my dreams changed based on what I was good at and what I felt really called to do. In my early 20's, I remember chatting with a girlfriend and told her I wanted to combine all my passions into my work. At that time, my passions were helping people, graphic design, and songwriting. Guess what? Those are still my passions today and I've combined all of them into my business.
The road hasn't always been easy though. Along my travels I've met a lot of people who get in their own way. I recognize them because I see myself in them. I've been there. And I've also been here, on the other side, continuously creating a life and business that I love. Do I still get in my own way…um, hells yeah! But I've learned to recognize it faster and get the heck outta there.
So what is YOUR dream? And why would you NOT want to pursue it? Here are some possible reasons:
 1. Getting what you want is scary.
Ever heard the saying "be careful what you wish for?" Sure people love to talk about all the wonderful things that happened once they reached a goal or dream. But they rarely mention all the crap that accompanies it. When going after something you want, fear is inevitable. It's one of those dirty little secrets we don't like to talk about. But we must. Because it's true. We all experience it. And when you come face to face with your fear, it's good to know that it's normal.
 2. There's effort involved.
If going after what we want were easy, we'd all be doing it, right? The universe will test your resolve. And typically, the dreams we are called to do…the ones deep in our hearts and souls…are not on the easy path. They require hard work and dedication. So if you're not ready to roll your sleeves up and get your hands dirty, best stay right where you are and keep dreamin'.
 3. It takes time.
There's a lovely phrase I must remind myself: "it takes 10 years to become an overnight success." Our society has conditioned us (or tried to anyway) for instant gratification. If we can't get it now, we don't want it. But there's something to be said for the satisfaction of waiting. The anticipation. The knowing you earned it. We appreciate things we have to work for and that aren't instantly handed to us. Plus, we may think we're ready for the big dream RIGHT NOW, but we might not be. Everything comes when the timing is right. Patience, my lil' dreamer…patience.
 4. Your success may ruffle other people's feathers.
We are often so consumed with our own fear about changing that we forget our changes can have a ripple effect in people around us. If you go after your dreams, it can be a painful reminder to those around you that they haven't lived out theirs. And that pain can turn against you, literally, in the form of jealously, sabotage, or just plain hatin'. We intuitively know this because we've seen evidence of it at one time or another. And if your fear of rocking someone else's boat is bigger than your fear of staying where you are, guess what?
 5. You might outshine someone you really respect and admire.
Everyone's got a dream. But not everyone gets to live theirs out. Some people sacrifice so that others can live their dreams. And some of those people may be people you really care about, like your parents. Parents are hard-wired to want better for their children than they had. But some parents have difficulty hiding all their regrets as you rise up. It may be difficult to accept that someone else gave up their dreams so you could live yours, but remember we all have choices. By living your dreams, you just may inspire someone else to live theirs.
 6. It's lonely at the top.
As you move toward what you really want, you'll find less and less people on that path. You may at some point look around to find yourself spending less and less time with people you were very close to. But guess what? Keep looking, cause you'll also find people, like you, who are taking the road less traveled. These are your kindred spirits…the ones who understand what it takes to live out their dreams. You may not have as many close connections but the ones you do have will be with people who get it.
 7. You might be happy.
This one may sound a little strange, but hear me out. If 99 things go right in your day, and only 1 thing goes wrong, which one will you focus on? That ONE thing, right? We are so used to focusing on the negative of how we feel and what's going on, that feelings of true happiness can be uncomfortable. We seem to be more comfortable with criticism and negativity. What's wrong with THAT picture?
8. Life will be boring.
This is a paradoxical notion…that once you reach your dream you'll not have anything else to do in your life and life will be boring. Hmmm…let's examine that one. When have you ever taken steps to reach a goal and had things NOT change up along the way? While you live out your dreams, you better believe that you will change and grow during that process, and that means your dreams will change and grow too. You might have different ideas of how to fulfill your dreams or new dreams might pop up along the way. Life isn't boring when you are doing what you love.
If you're still struggling with the idea of following your dreams, I invite you to listen in on the Get Our of Your Own Damn Way Interview series where I highlight people who have been there, done that, gotten out of their own damn way, and boldly embraced their dream and greatness. It might just give you the inspiration you need to go for it. Join us at www.krylyn.com/GetOutOfYourWayInterviews.
Comments
comments